Dr. Kanwal Kaisser is the first female instructor of Azaan Institute. She is the Director of Hamaray Bachchay Department, Al Huda International Welfare Foundation, Islamabad. A Medical Doctor (Child Specialist) by profession who works for Humanity on various fronts. She is a dynamic orator and a preacher who makes appearance on various TV channels. Dr. Kanwal authored Hamaray Bachchay resource book series for teachers as character building guide for children. She has more than 20 years of experience in teaching children, youth, along with parenting and teachers training. She conducts regular workshops in Medical Colleges, Universities and several other Institutions for personal grooming based on Quran and Hadith. She is also an instructor at Online Islamic University (IOU) for "Visionary Family Series".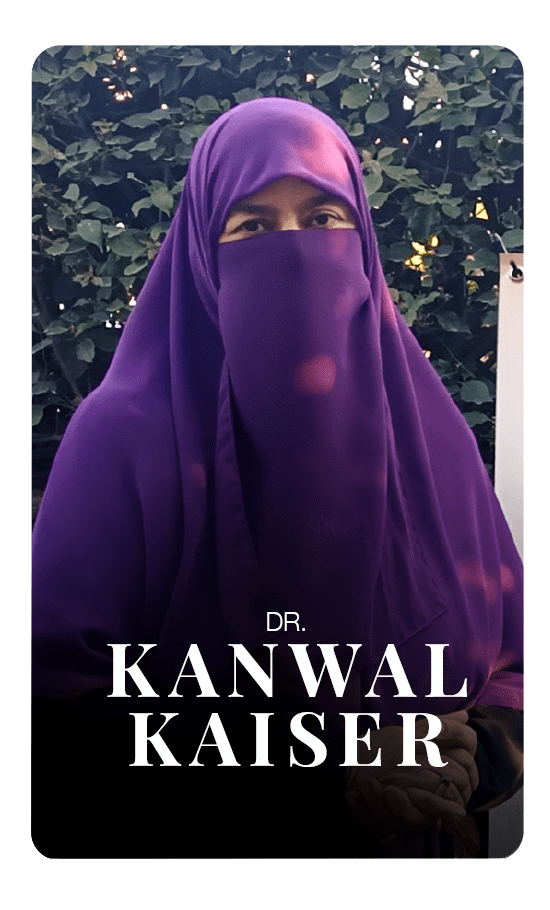 Aiasha Amir Khan, an instructor of Al-Ilm institute, a programme coordinator, a motivational speaker, learner, student of knowledge project head of Sanctity of Human life. Currently, she resides in Karachi. Following the madhab of Qur-an and Sunnah, on the belief of Ahl-e-Sunnah wal jamma'h and respects all school of thoughts and Scholars. She aims to strengthen women of the Ummah by evoking the love of Islam into their hearts with a proper value structure and to give them the confidence to practice Islam. She holds a B.Sc. double degree from Punjab University in Biology and Chemistry. Having studied the first formal study of Qur-an with Huma Najmul Hassan at Al-Ilm institute Karachi. Aiasha Amir successfully completed an online course by Dr. Israr Ahmed on Muntakhab Nisaab. And then She went on to study, Lughah, Arabic Grammar, in-depth studies and Tajweed both online (Islamic Cambridge University) and in-person under various teachers and joined the administration of Al-Ilm institute, later becoming a trainer. She taught Tajweed for three years in a weekly women programme at Al-Ilm institute. Currently teaching a twice a week advanced programme Ta'meer of 19 months at Al-Ilm institute Karachi. In Ta'meer she is heading the module of in-depth study of Surah Al Baqarah and Module of advanced Arabic Grammar of the Qur'an. She holds monthly talks in different areas of Karachi on different topics related to current issues of women, parenting and young girls. She is also conducting Daura-e Qur-an and in-depth study programmes during Ramadan for the last eight years for women. She is an avid anti-abortion rights campaigner, and the author of the booklet on the topic, The Silent Scream in English and Urdu. Along with Dawah she is a social activist, working in the slums and in various areas of Karachi to help people, along with her team of dedicated volunteers by providing basic necessities of life and doing tarbiyah sessions.
Ustadh Mugheerah Luqman has more than 6 years of teaching and administrative experience in academia; his most recent assignment was in a school in UAE where he was working as the Head of the Department of Islamic Studies. He is currently working as a Regional Director, Punjab at Youth Club and also the head of Tarbiyah Department at Riphah University, Lahore where he is responsible for subjects like Islamic Studies and Professional Ethics, etcetera, along with other responsibilities of character building of students as well as faculty and management staff of the university. Apart from that he is also working as a General Manager at Al-Noor Center in Lahore where is he is responsible for administration, management and academics. He has ACCA from ACCA Global, UK and Bachelors of Science (Hons) in Applied Accounting from Oxford Brookes University, UK. Before that, he has Master of Arts (MA), from University of the Punjab Lahore and is currently completing his MPhil in Islamic Studies from University of Lahore. Along with teaching Islamic Studies, he has experience of teaching ACCA subjects and Business and Accounting to O and A levels students in UAE. He is a well-known guest speaker at different International TV Channels i.e. Sharjah TV, Paigham TV and Huda TV. He has conducted several motivational workshops in different institutes including IBM (Karachi), University of Central Punjab (UCP), FAST (Karachi), University of the Punjab and numerous others. Along with the mentioned above, he is Hafiz of Quran and has done his Dars-e-Nizami (8 years) degree from "Jamiah Lahore al-Islamiyah, Lahore, from the College of Quranic Sciences where he mastered different dialects of Quran thereby acquiring expertise in Quranic Sciences. Because of the mentioned expertise, he was officially called in UAE for leading Taraweeh prayer at a grand mosque in Jumeira, Dubai. He has been invited as a guest speaker in numerous national and international conferences and has been delivering Friday sermons for last 2 years in Dubai in two of its English Mosques. While living in UAE, he has been teaching at different institutions such as ICC (Islamic Cultural Centre, Abu Dhabi) and others.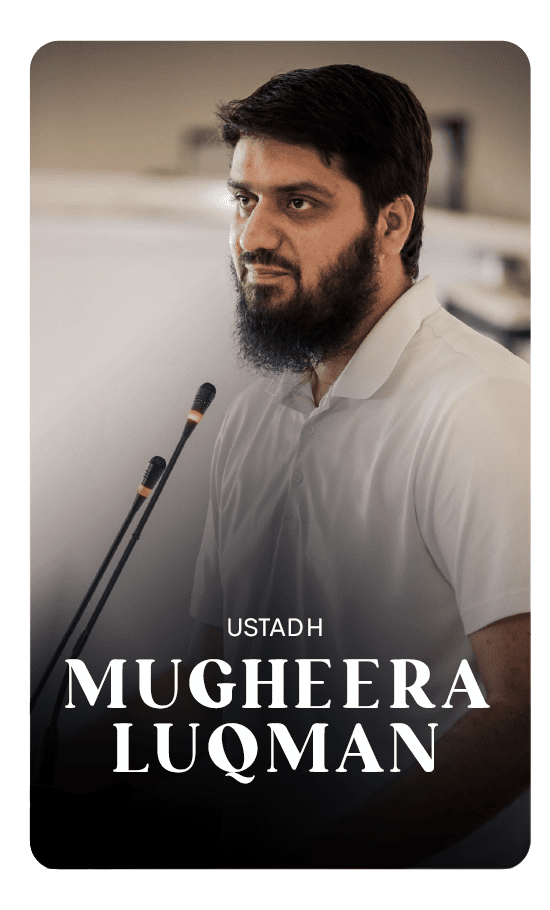 Ustadh Kamran Rauf Kiyani is an active researcher and speaker on the Seerah (life history) of the Prophet Muhammad (Peace Be Upon Him) and Islamic History. He has been a student of various scholars from Pakistan, South-East Asia and the Middle East. He is part of an international panel of Muslim experts of management science developing an Islamic framework for leadership.
Ustadh Kamran also heads GEM Learning and is the CEO of Scoute.ai. Over the past 18 years he has trained over 10'000 professionals in the US, the UK, Pakistan, across the Middle East and South-East Asia.
Masters in Islamic studies from Punjab University.
Masters in In Islamic & Arabic studies from WifaqulMadaris Alsalafia
Taleem ul Kitab wal Sunnaah (Alim course) from Jamia Salafiah (FSD) Jamia Aldawah Islamia (LHR)
M.Phil in Dawah& Islamic Culture, Research on الإعلام الخارجي المرئي و آثارها السلبية على المجتمع الباكستاني و واجب الدعاة نحوه (Impact of foreign visual media on the society of Pakistan & Resposnsibilities of Dua'at towards it") from Islamic International University, Islamabad.
Spent almost 3 years in Makkah to seek knowledge from some renowned scholars.
PHd in Tafseer from Alama Iqbal University Islamabad.
Teaching the Tafseer of Qur'an , Hadith & Arabic Language from past several years.
CEO The Cure Welfare Trust for education & welfare.
Authored a few Islamic books.
He worked as permanent faculty member, as a lecturer of Islamic & religious Studies for 5 years at NUCES (FAST) University Islamabad.
Host trainer & lecturer of Da'wah Academy , Faisal Masjid & Al-Huda International Islamabad.
He has delivered lectures at different TV channels He has been delivering lectures in various prestigious universities and institutes of Pakistan since many years.
He has also delivered many short courses, public lectures & workshops from the platform of , Al-Qalam Academy (Doha Qatar) Azaan Institute Tawhid Academy, MahduTaleem waTazkia , IIQL, Al-Burooj Academy and Youth Club Islamabad.
He is one of the instructors at Azaan Institute. Qari Sohaib Ahmed Mir Mohammadi is a Pakistani national, a world-renowned Qari and Islamic Scholar. He studied in the College of the Holy Qur'an and Islamic Studies at the Islamic University of Madinah Al-Munawarah and has specialized in the ten readings of the Qur'an, Tajweed and Islamic Studies & Sciences. He studied from famous scholars such as Shiekh Hudhaifi for three years, further his capabilities were enhanced by supervision of Sheikh Hudhaifi and Dr. Ahmad Al Muqri for 2 years in recording of Qur'an at Radio Qur'an – Riyadh, Saudi Arabia. He frequently delivered lectures at Hajj and Umrah season in Urdu on behalf of Madinah University at Masjid An-Nabawai Al-Madinah Al-Munawarah. He had been Imam at main Mosques of Islamic University – Al-Madinah Al-Munawarah, Mosque Al-Farooq Al-Riyadh and Mosque ibn Baaz –Makkah Al-Mukaramah Saudi Arabia. He has also written several books on Islamic Values & Code. He frequently visits Middle Eastern countries and across Pakistan for Islamic Lectures, Leading Taraweeh and Qur'an Conferences. He is the founder of Qur'aan College and Islamic Training Institute in Phool Nagar where he teaches Qur'an and Hadeeth Sciences, Tafseer, Qiraat, Arabic Language and also supervise courses being held at girls' campus.
Sheikh Kashif Naseem Dilkusha is actively involved in spreading the message of Islam. While teaching deen he combines his experience with 'ilm and a modern understanding which is certain to leave the students skilled and empowered.  He is the founding member, lead instructor and the Director of Azaan Institute. He also heads Mushkeeza which is a non-government organization and is a valuable member of his family business setup. At present, Kashif is keenly involved with various Da'wah projects and activities held in Karachi. These projects and activities include delivery of Friday Khutbahs and lectures at numerous Masajids and institutes. His articles have been published in www.muslimmatters.org. Shiekh Kashif earned his B.S. in Economics in 1998 Southeastern University, Washington D.C. Kashif then completed his Masters of Business Administration from Iqra University, Karachi. He also completed his 8 years Dars e Nizami and was awarded a graduation degree in 1st division (Mumtaz)under the supervision of Wifaaq-ul-Madaris.