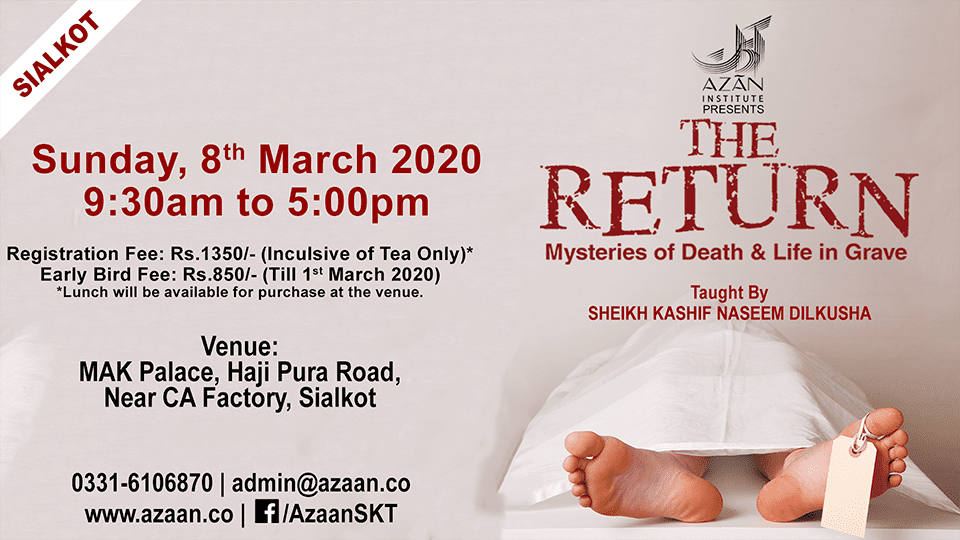 March 8, 2020 - 09:30
Sialkot Business and Commerce Center, Paris Road, Sialkot
Death is a topic few care to discuss because of its ultimate certainty. Today when the world obsesses over petty disagreements, the inevitable nature of death remains an undisputed fact. Every soul shall taste it; none will be spared. We are aware that we shall die someday, but we know very little about it. Ever wondered what happens after, and if there really is life after Death? Do you find yourself searching for the answers to these questions:
What are the signs that distinguish a good ending from a bad one?
How is life in graves for those who do not die a normal death?
Are the Prophets and other highly righteous individuals spared from the grip of the grave?
Will the blessings and torment in the grave occur to both, the body and the soul?
Will the torment of the grave continue until the Day of Resurrection?
Do we have one soul or three?
Who can hear the shrieks of the dead?
What is the fourth question asked in the grave?
What are the general and specific and reasons for punishment in the grave?
You will find answers to these precise questions and many more at the course "The Return"!
Join Sheikh Kashif Naseem Dulkusha as he opens a viewer's eye to the reality of death and learn to prepare youself for a blissful ending InShaAllah.
EVENT INFO :
Start Date:

March 8, 2020

Start Time:

09:30

End Date:

March 8, 2020

End Time:

17:00

Location:

Sialkot Business and Commerce Center, Paris Road, Sialkot