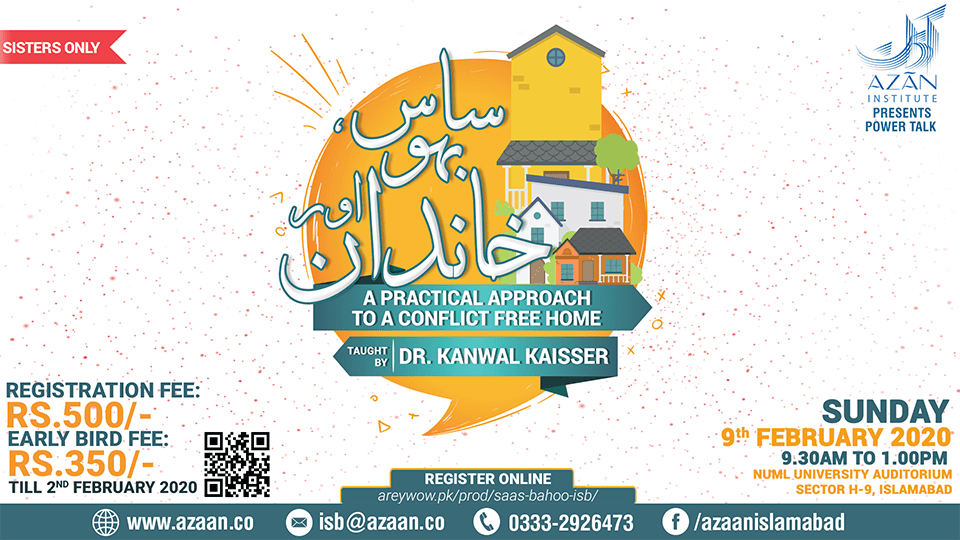 February 9, 2020 - 09:30
NUML University Auditorium, Islamabad
"It is only by observing the limits of Allah and giving the rights of all individuals in a way it is ordained in Islam, a Muslim family can live in peace, tranquility, and harmony."
The saas, bahu animosity is a centuries old phenomenon. Hostile, antagonistic and riddled with jealousy and possessiveness, it is a relationship that is supposedly doomed to failure.
Today, with education a top priority and the choice to live a relatively independent life, why do in-laws continue to figure prominently in cases of divorce and broken engagements? Are in-laws becoming an affliction or is the younger generation simply devoid of tolerance? Is a good mother-in-law a reality or myth?
What role does religion play in maintaining a sensible and well balanced family system? Does the Quran and Sunnah define a  code of family life which expressly shows the exact responsibility and role of each member of the family?
To answer all this  Azaan Institute presents "Saas, Bahu aur Khandaan"  – A PowerTalk by Dr. Kanwal Kaisser, where you shall learn:
The Sas and Bahu relationship in light of Quran and Sunnah
How to channelize this relationship for harmony in families
The skills required and roles to be played by the entire family in this relationship building
Joint Family system dynamics
Allāh has created men and women as company for one another so that they can live in peace and tranquility according to the commands of Allah, however, it becomes difficult if we follow Shaytān or our nafs. This can and does happen when the mother-in-law/daughter-in-law relationship becomes toxic and they oppose each other on any and all issues.
Come and learn your rights and hers as well – so that you withstand in moments of crisis and unleash your potential as a homemaker purely for the pleasure of Allah. That way, if Allah wills, you will become role models for all the mothers-in-law and daughters-in-law for future muslimahs.
EVENT INFO :
Start Date:

February 9, 2020

Start Time:

09:30

End Date:

February 9, 2020

End Time:

13:00

Location:

NUML University Auditorium, Islamabad