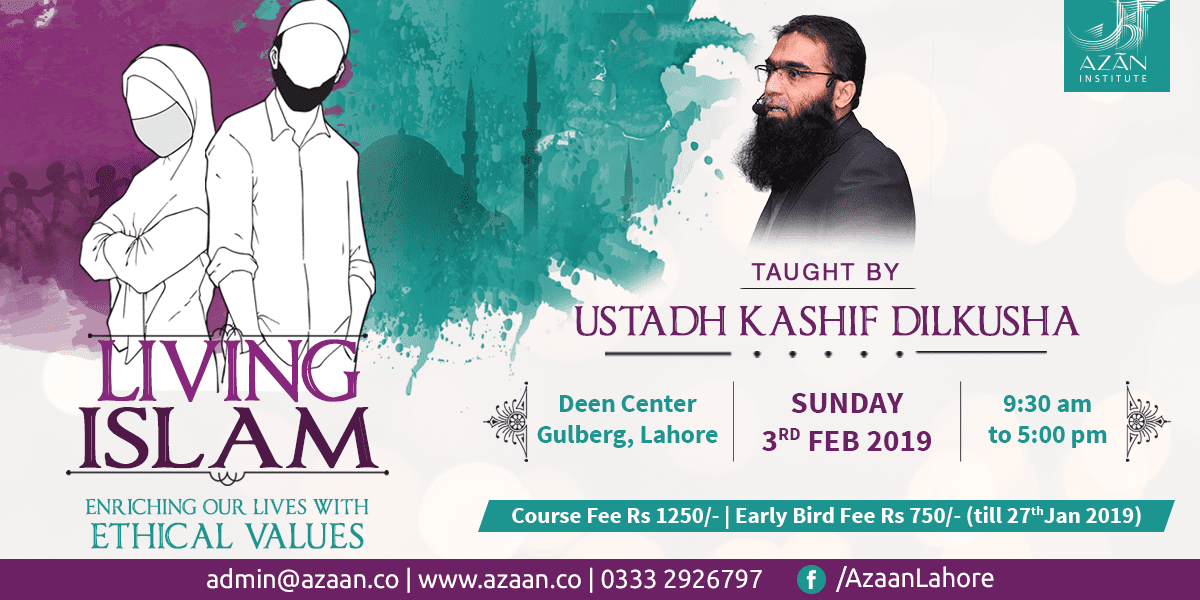 February 3, 2019 - 09:30
Deen Center, 62 C-1 Block, Gulberg 3, Lahore, Pakistan
" So then surely they are (the true) nations,
Whose etiquette has remained behind (for us);
Then if they lost their etiquette (when they existed),
Then they too have ceased to exist (now). ,,
a verse from an Arabic Poem
More than 1400 years ago when society was suffering through its darkest period with chaos all around, Islam stepped into the social arena laying ethical groundwork in all areas of life. Islam brought forward a valuable set of teachings with priceless qualities necessary to build a productive society. Unfortunately, Muslims today have disregarded these valuable set of principles which lay the foundation for manners and ethical living in a society.
These are the principles that illustrate the way we should interact with our Lord and His Messenger (S.A.W) and the way we should interact within our society as a whole. Azaan brings you a single-day intensive course which will discuss some of these priceless principles in the light of Surah Al Hujuraat, in order to build an upstanding and spiritually strong Nation.
EVENT INFO :
Start Date:

February 3, 2019

Start Time:

09:30

End Date:

February 3, 2019

End Time:

17:00

Location:

Deen Center, 62 C-1 Block, Gulberg 3, Lahore, Pakistan