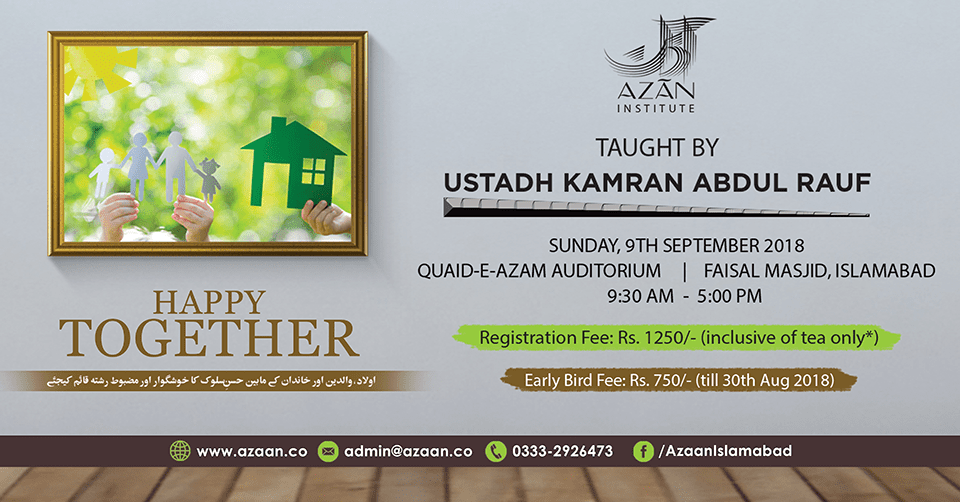 September 9, 2018 - 09:30
Quaid-e-Azam Auditorium, Faisal Masjid, Islamabad
Would you consider your family ties happy? Do you feel peace, serenity, closeness, love and the spirit of sacrifice in your home?
How close are you to your extended family – aunts, uncles, cousins, distant grandparents? Do you speak to them frequently? Do you remember all their children's names?
Every family is made up of different personalities, interests and motivations. Sometimes these conflicts, sibling rivalry, misunderstanding between spouses, disagreements with parents… How can one learn to be happy with one's family?
This one-day course will explore our relationships with our parents, spouses, children and the extended family in the light of the adab taught to us by the Prophet Muhammad.
"Kinship (rahim) is derived from Allah (Ar-Rahmaan). If anyone maintains ties of kinship, Allah maintains ties with him. If anyone cuts them off, Allah cuts him off." [al-Adab al-Mufrad].
Course Objectives:
Understanding the concept of Adab – our conduct with those around us.
A brief overview of Adab-al-Mufrad and the story of the life of Imam Al-Bukhari.
A Muslims relationship with parents (Birr-ul-Walideyn).
The status of the mother and the father.
Family ties (Silat-ur-Rahim).
Close vs distant family members.
Husbands and Wives.
Leadership of the family.
Islamic Parenting.
Children in the Masjid.
Schooling, Training and Disciplining.
EVENT INFO :
Start Date:

September 9, 2018

Start Time:

09:30

End Date:

September 9, 2018

End Time:

17:00

Location:

Quaid-e-Azam Auditorium, Faisal Masjid, Islamabad