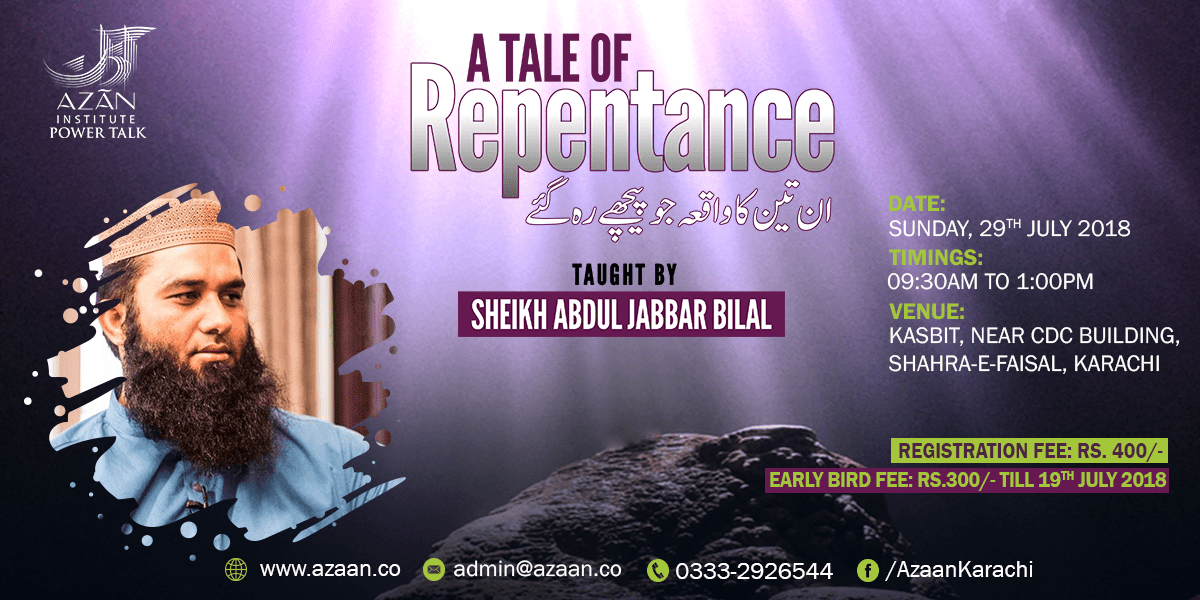 July 29, 2018 - 09:30
KASB Institute of Technology
Not a moment goes by when we do not commit a sin, disobeying our Lord. Yet, our Lord awaits the remorseful plea of His Slaves.
Let us take you on a Journey of a trial that a sin can bring in our life and the power of tears & sincere repentance.
Azaan presents yet another PowerTalk,  "A TALE OF REPENTANCE" with Shaikh Abdul Jabbar Bilal, where you will learn how to turn the sinful and despondent heart in the direction of your Lord.
Let us reflect on the story of the Prophet's Companion Ka'ab Ibn Malik (radhiAllah unhu) and those who stayed behind at the battle of Tabuk. An incident about true love, the boycott & the ikhlaas of their true repentance.
"…then He turned to them so they could repent. Indeed, Allah is the Accepting of repentance, the Merciful." (9:118)
EVENT INFO :
Start Date:

July 29, 2018

Start Time:

09:30

End Date:

July 29, 2018

End Time:

13:30

Location:

KASB Institute of Technology