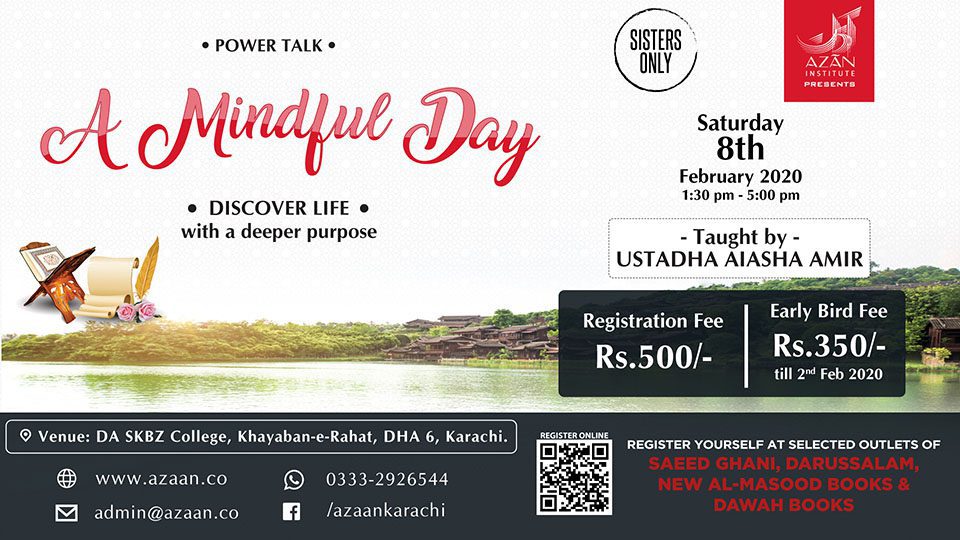 February 8, 2020 - 13:30
DA SKBZ College, Karachi
They say that a fool lives to eat and a wise man eats to live. But then the question remains: for what purpose does the wise man live? Living is not an end by itself. There has to be a purpose for man to live for. So, what is this purpose?
To find your purpose one needs to be self-aware. Knowing ourselves is key to improving ourselves, thereby becoming better people and being able to get closer to Allah as a result.
"Indeed he succeeds who purifies his soul." [Qur'an – 91: 9]
Each one of us is gifted our own unique personality, strengths and weaknesses and the process of knowing oneself is lifelong and is only finessed the longer and the more we do it consciously.
Most of our lives are spent in achieving unrealistic standards of perfection, and then we judge ourselves when we don't live up to them. Perfection isn't possible, but transformation is. All of us have the capacity to change, to learn, and to grow, no matter what our circumstances.
What does it require to transform yourself? Research shows that our mind wanders 47% of the time hence we miss out on the important things in life since we are not present. To overcome this we must practice mindfulness, Mindfulness is inherent in the very foundation of Islam. The Prophet Muhammad would meditate, reflect and ponder the realities of his time.
Mindfulness pivots on an inner moral compass which points to the Oneness of The Creator. "A Mindful Day" is about finding your inner compass which shall only seek to bring light, growth and happiness whichever way it points towards.
In this spiritually awakening PowerTalk by Ustadha Aiasha Amir we shall be learning:
– Self Awareness
– Cognitive Flexibility
–  How Practice makes you stronger
– Mindful Parenting
– Taking steps towards transforming the World
EVENT INFO :
Start Date:

February 8, 2020

Start Time:

13:30

End Date:

February 8, 2020

End Time:

17:00

Location:

DA SKBZ College, Karachi